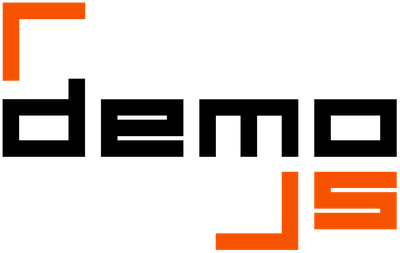 DEMOJS 2013 - JS pride!
We are back!
After last year success (100+ sceners coming, 27 prods), we are thrilled to invite you the new release of DemoJS team : DEMOJS 2013 - JS Pride.
Check out our invitro (Also on Pouet)
---
Highlights of the week-end
starts friday June 28th @ 8PM CEST
ends sunday June 30th @ noon CEST
hosted by Isart DIGITAL, the videogame and 3D movie school
FREE as a beer could be :)
3 main compos (1K, 8K, Demo) + fast compos + special prizes
Remotes are welcome
200+ squared meters
Conferences with major demoscene/web players
Concerts
Friendly atmosphere
And more…
(re)Introduction
Demoscene? Demoparty?
The demoscene is a computer art subculture that specializes in producing demos, which are audio-visual presentations that run in real-time on a computer. Demosceners are coders, graphic artists, computer musicians… More infos on wikipedia
A demoparty is an event that gathers demosceners and other computer enthusiasts to socialize and compete. You can find more about demoparties on wikipedia
Indeed, competitions, or "compos", are the main feature of a demoparty : the productions made by the demosceners are shown on the bigscreen, then the public vote to rank them.
An important rule in all the demoscene competitions is that the production must be new, ie the production should not have been previously released or publicly shown. Also, it's important to understand that you don't need to wait for the demoparty to start your production. The demoparty just acts as a deadline.
We strongly recommend to take part in at least one competition. Having YOUR production showed on the bigscreen in front of a relevant audience is awesome, and will fulfill your party experience.
DemoJS?
DemoJS demoparty is a demoparty specialized in web technologies.
We welcome both experienced demosceners and people who have never been to a demoparty.
Our aim is to bring together the best of the two worlds (demoscene & javascript) to make a great event.
If you are a beginner in web technologies, here are some links to help you. Also, you will find help at the party place, don't hesitate to ask people around you!
DemoJS 2013 has 3 competitions: 1K, 8k, and demo. You don't need to be physically present at DemoJS to compete (of course, if you can, we strongly recommend to actually BE at the partyplace). All the details about the DemoJS competitions are on the compos & rules page
What to bring to a demoparty?
your computer
an ethernet cable
a sleeping bag (if you plan to sleep at the partyplace)
your creativity!
Schedule
Highlights of the party
All times are given in local time CEST. This program is subject to change (but not that much).
Friday, June 28th 2013
8PM : doors open, sceners install their stuff and start coding
Saturday, June 29th 2013
2PM : Tech talks
8PM : Deadline for demos submission
10PM : COMPOS
Sunday, June 30th 2013
11AM : Competitions results
noon : The party ends
Tech talks and concerts
The complete program for the tech talks and concerts will announced soon.
Tools of the trade
1k || 8k
Packers
Music in a few bytes
Frameworks
All compos
Frameworks
Tools
Documentation and tutorials
General
Small prod
Webgl / 3D
Canvas
JS demo examples
How to meet musicians and graphic artists?
If you are a lonely coder looking for a soundtrack or some graphics for a demo/intro, you can probably find a demoscener willing to collaborate with you. Here are some hints on where to look for people :
Need more help?
Also, don't forget, DemoJS is a friendly place with friendly people where you can find help; don't hesitate to ask people around you!
Come to DemoJS - Paris, France
At Isart Digital : near Opéra Bastille
View this map on Google Map website
Transportations from Paris and nearby
The nearest metro station is Bastille. This is by far the easiest way to come to the party place. You can use the following metro lines to come : 1 5 8
You can also use the bus. Each one of those stops close by Bastille : 86 76 65 29 20 69 87
We do not recommend coming using a car because the neighbourhood is very busy and it is very hard to find some parking (Isart Digital doesn't provide any space to park).
Are you coming from outside of France?
We can help you to plan your travel! Just email us: contact@demojs.org
Sleeping at the party place
You can sleep at the party place, both the friday night and the saturday night but nothing will be provided like bed or mattress.
Still lost?
You can reach us by email, and - in case of emergency - by phone (+33 6 61 53 88 71).
Rules
General rules
Native browser web technologies only, like WebGL or Canvas. No plug-ins (e.g Flash or Silverlight), no extras.
The production should not have been publicly released previously.
The production has to work on at least one major web browser : Firefox or Chrome or IE. Your demo must run in any of them, without a problem. You are allowed to experiment with the nightly builds, but please keep us informed.
You should only submit your own work. In particular, it is forbidden to submit copyrighted material.
The organizing team may disqualify inappropriate entries (pornography, illegal content...).
The organizing team may disqualify entries that don't follow the rules expressed here. If you have any questions regarding one of those rules, you can email us : rules@demojs.org.
You CAN start working on your production NOW. The production does NOT need to be made 100% at the party place.
Deadline is saturday june 29th @ 7PM CEST
Compo machine
Technical description : Intel i5-2500k / 8GB RAM / GeForce GTX 560 Ti 1go / SSD / 1680x1050
We will not install any add-ons on the compo machine.
Entries will be run from a local file, not over HTTP - browser options for local file access will be enabled where necessary (e.g. --allow-file-access-from-files on Chrome).
How to submit your work?
General
You can submit your entry at the party place or by email for remote entries : remote@demojs.org.
You will have to specify the following informations :
list of used technologies (e.g. WebGL, Canvas, Audio API, etc.)
best browser to run the demo, and list of known compatible browsers (with, if possible, minimum required version)
recommended screen resolution for running the demo, if any
Remote specific informations
You can enter the competitions even if you won't be present at the party.
Send us your(s) production(s) by email : remote@demojs.org
Please include in your email :
the production title
author/group name
(optionnal) a message about your production, that will be read to the live audience (of course, you can send us an audio or video recording if you wish!)
Compos
Browser 1k
Play with a few bytes !
Everything needs to fit in one or more files.
Total size must not exceed 1k, including HTML, JavaScript and all resources required to run the intro.
Note that 1k means 1024 bytes or less. We're not counting in characters, but in bytes (beware of unicode).
The production have to work offline.
You are NOT allowed to retrieve content from the Internet
You should not use any operating system provided media files such as the "Media" and "Music Samples" directory
You can use built-in generic fonts such as serif, sans-serif.
No shim is provided.
Total size must not exceed size limit.
Browser 8k
Try to put cool visuals and music in 8k !
Same rules as in 1k category except the size allowed here 8k wich is 8192 bytes.
Browser demo
THE compo
No maximum filesize. However don't try to run a movie in an iframe.
Must be a non-interactive.
You can retrieve external content from the Internet, but it is at your own risk. We shall not be liable for connection problems during demo projection.
Fast prodz
These compos will be focused on specific aspects of demos, such as 3D modeling or specific platforms, with a specific theme revealed the day of the demoparty. More on those will be announced soon.
Special prizes
A DemoJS's panel will give special awards to compos chosen based on the following criteria :
The most browser-compatible demo : The whole world does not use last version of Chrome, and compatibility between browsers remains a key issue of web development. Also we prefer well-coded generic demos that behave equal in all browsers, than demos which works nice because of browser specific hacks.
The most original demo : Unusual browser technologies and original concepts will be appreciated.
Questions?
If you have any question about the rules, drop us an email: contact@demojs.org.
Partners
Main event partners
Organization partners
Be part of the team
If you want to be part of the team, please contact us at sponsor@demojs.org